Mark Fox
Peak District Survival School has been born out of Marks passion and personal interest in nature and wilderness living. His early interest in the outdoors was influence by his grandfather, a Dairy Farmer and Gamekeeper who taught him traditional country skills, an understanding of the use of trees, plants and a love of the wilderness.
Mark has worked as an outdoor education instructor for the past 15 years for a local authority Outdoor Centre and a range of other providers and private contractors. He has travelled extensively and used this as a learning experience to enhance his skills and knowledge of the natural world and wilderness living.
Mark lives in the Peak District and can be found most weekends enjoying the Peak Park both above and below ground!
Mark has extensive experience of delivering outdoor education to a wide client base including; schools groups, young people not in mainstream education, groups with challenging behaviour, family groups, corporate groups, teachers and military personnel. He is a regular presenter at Base Camp Festival.
He is a qualified trainer and assessor for Survival School Ltd, and holds Bushcraft, Survival and Wilderness Living NCFE level 4 and a Cave Instructor Certificate (CIC)
Mark also researched, designed and accredited  the Survival School CQ Level 3 Bread, Origin, History and Evolution Course.
In addition Mark has achieved National Governing Body Qualifications in the following disciplines:
Mountain Leader Training Executive –  Mountain Leader Summer Award (ML) and Single Pitch Award (SPA)
Institute of Outdoor Learning  – Accredited Practitioner of the Institute of Outdoor Learning
British Canoe Union (UKCC) – 3* Canoe, 3* Kayak and Level 2 Coach
Survival School NCFE Qualifications:
Survival School CQ Level 2 Bushcraft, Survival and Wilderness Living
Survival School CQ Level 3 Applied Bushcraft, Survival and Wilderness Skills
Survival School CQ  Level 3 Primitive Skills
Survival School CQ Level 4 Bushcraft, Survival and wilderness Living, Instructor and mentor
Survival School CQ Level 5 Course Director Diploma
Other relevant Certification
Data and Baring Service subscription (DBS) used to be Criminal Record Bureau
Wilderness First Aid Certificate
Archery Leader Award
Level 2 Food hygiene certificate
Child protection and safe guarding level
---
Jack Morris 
Hi I'm Jack, the place that I'm happiest is in the mountains. I've been climbing for over 10 years. it's taken me to some of the most incredible place's around the world and for me there is no work better than being able to share with people the skills needed to fuel their own adventure.
Jack is at home in the mountains, on camp, on the crag and also in the pub!
Jack will be running a varied skill base including:  Learn to Lead training, Rock Climbing Instructor (RCI) Pre Assessment and training days, ML days,  Family climbing and scrambling days. watch this space.
MIA, Winter ML, First Aid, DBS and more.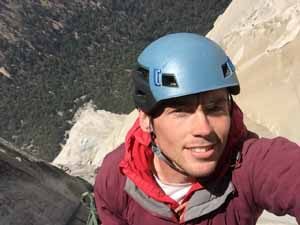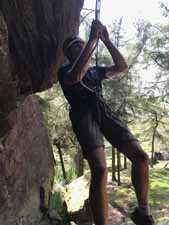 ---
Mike Perry
My background is 9 years in the Royal Air Force as a chef travelling to far flung places such as the Falkland Islands, Scandanavia, USA and central of Europe.
It was there where I became interested in cooking in remote locations using basic equipment to provide quality food for the Squadron. In future years I maintained my interest in endurance sport competing in cycling and ultramarathon events whilst retraining to be a chartered physiotherapist. I also decided to use my free time as a volunteer for Staffordshire Search and Rescue working with the Police looking for missing people when requested.
Over the last few years I have become more and more interested in Bushcraft and Survival skills and took a few courses including foundation bushcraft skills, Animal and Human tracking, foraging and wild cooking and have passed my free time learning different skills and subjects relating to this.
I truly believe that everyone should have an awareness of our natural environment and how by using natural resources we can get some flavour of how our ancestors once lived. My favourite pastime is being out in the woods or canoeing down rivers appreciating our countryside. I am now working towards Level 4 Instructor level over the coming months.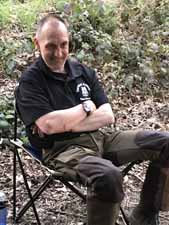 ---