Mark Fox
Peak District Survival School has been born out of Marks passion and personal interest in nature and wilderness living. His early interest in the outdoors was influence by his grandfather, a Dairy Farmer and Gamekeeper who taught him traditional country skills, an understanding of the use of trees, plants and a love of the wilderness.
Mark has worked as an outdoor education instructor for the past 15 years for a local authority Outdoor Centre and a range of other providers and private contractors. He has travelled extensively and used this as a learning experience to enhance his skills and knowledge of the natural world and wilderness living.
Mark lives in the Peak District and can be found most weekends enjoying the Peak Park both above and below ground!
Mark has extensive experience of delivering outdoor education to a wide client base including; schools groups, young people not in mainstream education, groups with challenging behaviour, family groups, corporate groups, teachers and military personnel. He is a regular presenter at Base Camp Festival.
He is a qualified trainer and assessor for Survival School Ltd, and holds Bushcraft, Survival and Wilderness Living NCFE level 4 and a Cave Instructor Certificate (CIC)
In addition Mark has achieved National Governing Body Qualifications in the following disciplines:
Mountain Leader Training Executive –  Mountain Leader Summer Award (ML) and Single Pitch Award (SPA)
Institute of Outdoor Learning  – Accredited Practitioner of the Institute of Outdoor Learning
British Canoe Union (UKCC) – 3* Canoe, 3* Kayak and Level 2 Coach
Other relevant Certification
Data and Baring Service subscription (DBS) used to be Criminal Record Bureau
Wilderness First Aid Certificate
Archery Leader Award
Level 2 Food hygiene certificate
Child protection and safe guarding level 2
---
Darryl Gough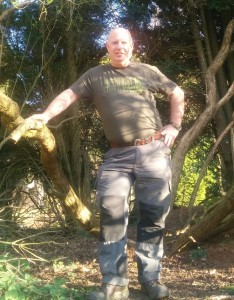 Darryl grew up amongst the farms and woodlands of Staffordshire and the knowledge and experience he gained from working with the local farmers, gamekeepers and woodsmen proved far more inspiring than those gained in the classroom, he would spend many a day with his trusty bone handled sheath knife and on special occasions a small axe creating great shelters and dens.
At seventeen he joined the armed forces looking for excitement, learning new skills and knowledge in the area of wilderness survival, after 12 years he retired at the rank of Sgt Instructor. Darryl firmly believes that the wilderness is not there to be conquered, and if you take that attitude with you into the great outdoors you are on a collision course with disaster. He can often be heard telling his students: "The most important wilderness skill is knowing yourself and knowing when to stop reacting to a situation and start acting with what you know, your best piece of survival equipment is kept between your ears."
For the past 20 years Darryl has concentrated on working with young people and linking this with the outdoors gaining the relevant qualifications along the way i.e. BETA, MLTE and NCFE Bushcraft level 2 along with the supporting First Aid certificates. He uses a Youth Work approach combined with Social Pedagogy methodology as a powerful and engaging platform for developing innovative, contemporary, creative projects in the outdoor environment, all of the above underpinned by a JNC Graduate Diploma in Community and Youth Work.
---
John Corbett
 
John has been a teacher for over thirty years and is now retired from working in schools but carrying on his interest in education and youth development by working as an outdoor instructor and expedition leader. He started his career teaching English in Africa and South America and running summer language schools in the UK. This was followed by twenty eight years in primary education where he has been a class teacher, deputy head teacher and head teacher working with children across the whole age range.
John has lived in and travelled extensively through Asia, Africa, South America, Australia and New Zealand. He has been climbing and walking for over forty years with considerable summer and winter experience in the UK and extended trips to the Alps, Pyrenees, Atlas Mountains, Andes and Himalaya.
He is an established youth expedition leader, having led groups in the Indian Himalaya, Malaysia, Morocco and Swaziland/ South Africa, and particularly enjoys the expedition experience of young people gaining new skills and confidence, exploring other cultures and opening their eyes to the possibilities of travel.
John has the following National Governing Body Qualifications for working in the outdoors.
Mountain Leader Summer (ML)
Single Pitch Award (SPA)
Mountaineering Instructor (MIA)
He also has the Gold National Navigation, Level 1 Orienteering Coach, RLSS Water Safety Management, Child Protection and Safety awards and is qualified in Remote First Aid.